Films I saw in July:
(
Read more...
Collapse
)
Films I saw in August:
:
Boyhood
cf
my review
.
Winter Sleep
cf
my review
Clouds of Sils Maria
by Olivier Assayas
Probably my favourite film of this Summer! The movie is so clever, and both Juliette Binoche and Kristen Stewart are fantastic.
Sils Maria
is about movies, actresses and acting, about the difference between fantasy/acting and reality, about the passing of time. It is based on several
mise-en-abîmes
, for some storylines echo each others or work as counterpoints, but there's also echoes between storylines within the films and other movies (
All About Eve
for instance) or between the characters and the actresses' career (for instance nearly 30 years ago, Assayas co-wrote Binoche's first starring role in Andre Techine's
Rendez-vous
). It's meta-fiction at its best.
Cloud of Sils Maria
tells the story of a mature actress, Maria (Juliette Binoche), whose career was launched about 20 years before when she was hired in a play called "Maloja Snake". The play then was adapted on screen and Maria became an international star. "Maloja Snake" is about a business woman, Helena, being seduced and manipulated by a much younger girl, Sigrid, who finally pushes her towards a probable suicide. At the times Maria played the young bitch. When Wilhelm Melchior, the playwright and her mentor, dies, she's asked by a trendy young stage director to star again in the play, but this time in the role of the older woman, Helena, while a young movie starlet, Jo-Ann Ellis (Chloe Grace Moretz) will play the part Maria used to identify to. At first Maria refuses, but she finally gives in, and goes to Sils Maria in the Swiss Alps, wherein Melchior wrote the play and died, to prepare the role with her young personal assistant, Val (Kristen Stewart).
Val is a hyper-reliable young woman who serves as Maria's minder, mother, therapist and rehearsal partner. The Maria/Val dynamic, of course, is the core of the film.
The setting is important too. It's sorta
huis clos
in the outside, and the place also echoes the plot as the real "Maloja Snake," is a meteorological phenomenon that sends clouds winding serpent-like, from Italy through a valley lined by mountains on either side.
As the final credits rolled on I couldn't help noticing that the three actresses had a personal assistant, but Stewart also had a body guard...
Les Combattants
I guess that if the film should belong to a genre category it would be Romantic comedy, expect that it isn't like any rom comedies you have seen. I don't like romantic comedies and I really liked that film!
The young actors are all excellent, and the film is just so funny. The opening scene sets the tone, as two brothers are at a funeral parlour to pick a coffin for their dead father, but they start arguing with the seller (who can't believe it) about the prices because of the quality of the wood...turns out they are carpenters by trade.
The Salvation
Okay. I love westerns but this isn't
Unforgiven
. Mads Mikkelsen does his best in a film that mostly follows formula, borrowing from the classics (by John Ford) here and from Spaghetti Westerns there. The Danish director does not renew the genre.
All the cast is good, but Mikkelsen definitely stands out, and the camera often indulges in close-ups on his unique face, relying both on his acting skills and beauty. Besides, since Eva Green's mouth is scarred there, he easily wins the award of most kissable lips! :- )
The film got rather bad reviews when it was showed in Cannes festival (it did not compete though), and I have to agree with the critiques. It's a soon-to-forget movie, only worth watching if you like westerns and are a fan of Mads Mikkelsen.
Films I wanted to see but didn't
Enemy
I shall see it next week!
I am not going to ramble, but everybody here knows that I hated
LOST
's finale with a passion. Also, I liked the finale of
Life On Mars
, minus the latest scene. I would have ended the series on the roof...
Two things prompted this post.


Firstly, the many awards Breaking Bad received for its final run, including best writing for "Ozymandias" which was not the finale but which was considered the best episode by everybody. Personally I think that "Felina" did work as a finale, and offered the perfect ending for Walter White's journey which is what matters at the end of the day, but some people weren't that impressed by it apparently.


When I consider my tv pantheon, finales are never my favourite episode, but some work better than others.
I believe that
OZ
's finale is quite relevant, given that
OZ
was a pure tragedy on screen, mixing elements from the Greek classics -- Alvarez's journey embodied the concept of tragedy, Kareem Said's hubris was so Greek-like, but most of all, Augustus Hill being used both as a character and as a
coryphaeus
was such an old and odd element, style-wise -- with elements from Shakespeare's plays (Ryan O'Reilly was made after
Othello
's Iago after all!) and putting him in the context of an American prison with gangs, drugs and races issues.
Deadwood
's finale was not supposed to be a finale...unless it was. With Milch, you never know what the truth is. Anyway, on the one hand the episode works as a series finale, thanks to its fine writing and that last blood scrubbing scene; on the other it does not because we know that the real Deadwood's and its historical characters' story went on...
Buffy
. I liked "Chosen" on paper, because of the final metaphor at the center of it, but the episode didn't work for me on screen. The production tried to go showy, without having the budget to do so. I blame
Lord of The Rings
!
The Wire
. To be honest, I wasn't a big fan of the finale. The montage felt like a cheap way to wrap things up. And apart from one character, it was too much of an happy ending.
BSG
. I'm going to repeat myself here but I made my peace with the finale, especially the infamous final scene, even though it annoyed the hell out of me at first. That said, it did drag a little so I would have cut many Caprica Before The Fall flashbacks.
So, all things considered,
Breaking Bad
's finale is probably the one that works the best for me.
As for other shows, that I loved even though they are not in my tv pantheon, the final episode of
Terminator The Sarah Connor Chronicles
's second season is probably the one that is best done and feels the most finale-y. I didn't like
Dollhouse
's finale as much as I liked "Epitaph", the first season's final episode;
Caprica
's finale felt botched up.
Rome
's finale was okay, I guess.
It's hard to tell with
FARGO
and
True Detective
, given the anthology nature of the show. Should we consider the final episode of the first series as finales? They are if we consider the series as character-driven. They were our farewell to those characters after all. I rather liked
FARGO
's finale (minus the Gus thing), but prefered "Buridan's Ass"; I also liked
TD
's finale, while many viewers who were probably too into the Yellow King mystery called it disappointing.
When all is said and done, I think that a finale must be true to the show's spirit and style and must say something about its major theme. For
Buffy
about female empowerment; for
TD
about the relationship between two troubled cops; for
FARGO
about small town folks reacting to evil; for
BSG
about the definition and essence of humanity; for
Deadwood
about a civilization built on lies agreed upon; for
Breaking Bad
about who Walter White really is.
(
Cut for a big spoiler in case you have never seen the show...and my interpretation of the final scene
Collapse
)
Finales are tricky. A final episode, or a final scene in a series' finale are very hard to do. Very few of them are quite satisfying.


Aside the obvious -- that is that they snubbed RECTIFY and its fantastic cast, The Americans and the astonishing Matthew Rhys, or Tatiana Maslany, when they released the nominations -- I think that the Emmys mostly went to those who deserved them.

I'm glad for the coronation of Breaking Bad because it might be the best tv series of all time (tomorrow I'll say it's Deadwood, but today...), and for Cranston and Paul, it was probably the roles of a life time. Walter White is a character that defies any tv formula; he is not a hero, but not really a anti-hero, and not quite a villain either. Bryan Cranston fleshed him out in a way that is unbelievable, so as terrific as was McConaughey's performance in True Detective, Cranston deserved that last award indeed. The journey was amazing and Cranston was at the top of his game in the last episodes. Walter's phone call to Skylar in "Ozymandias" is nothing but an acting master class.

My only big disappointement is for Allison Tolman, who gave the female performance of the year in a mini-serie(and frankly in television), but didn't win for FARGO. I admittedly haven't seen the other miniseries from her category so I can't tell about Kathy Bates' performance but still.

Julianna Margulies (lead for TGW), Allison Janney (guest for MoS) and Anna Gunn (supporting actress for BrBa), were all great and deserved their award, in their category -- btw I can't believe that Kerry Wahsington was nominated too, her acting in Scandal is awful, all about the same embarrassing mannerisms (quivering lips, unshed tears when emo, or grimacing when delivering a speech)!--, and I think that Tolman was even better than them! Yes she was that good. Boo.
I've just checked the list of winners for the Emmy awards.
RECTIFY
is definitely the best. Pure masterpiece. Already up in my tv pantheon, with
OZ
,
Buffy
,
Deadwood
,
The Wire
,
BSG
and
Breaking Bad
. I simply marveled at Ray McKinnon's beautiful work and his sense of defying tv conventions.
There is no weak episode in the first two seasons, and some episodes are just sublime. This finale leaves a lot of things in the air, and yet the final montage was a perfect way to end this season. "Unhinged" is just a series of perfect scenes, from the opening one to the last one, with great character moments. The center piece is Daniel's
morceau de bravoure
in the courthouse, but the rest of the episode is brillant as well. And, as usual, acting and directing were flawless.
Aden Young was riveting in this finale, in his scenes with Tawney, Janet, Ted, Jared, Amantha, John, and of course in the courthouse scene. What Erik Adams wrote in
his excellent review for the A.V Club
was so true:
"Young comes alive in his righteous anger, his profound sorrow, and his heartbreaking resignation. This year,
Rectify
had to open up and learn to tell other people's stories, but in this moment, it's Aden Young's show once more."
That line was a distorted echo to what chaplain Charlie told him in prison, that "beauty will redeem the world". BTW the famous piece by Arvo Part was played again in this episode.
RECTIFY
is a thing of beauty that hurts in the most devastating way.
Daniel is a fascinating character, and Aden Young's performance is terrific, but my heart still belongs to Teddy!
I so agree with
Alan Sepinwall's remark about his favourite bit
:
*) My favorite part of that scene is at the beginning, when Teddy slips some cash into Tawney's purse before she comes downstairs. Both there and when he offers to help her out in whatever she's doing next, we are reminded that while Ted is not the greatest human being alive (that would likely be his father), he is capable of generosity, and reflection. He knows he did many bad things in this marriage as well, and he also cares enough for Tawney to help her even as she's leaving him. And then all that empathy and introspection just gets crumpled up along with the letter when he realizes that Tawney spent the night with Daniel (even if he doesn't know, like we do, that no sex was involved).
I loved that detail so much!
Teddy's cry "he's taken everything!"
was heartbreaking. It's just so sad. During the Teddy/Janet scene I couldn't help thinking of the pilot, and how Teddy was told not to call her "mom" anymore around the Holden children (who usually call her "mother" not mom btw), not mom but Janet, as if she were just a step-mother. Daniel's being released has deprived him from the woman whom he's loved as a mother for half his life, before he even started losing his wife. And it's significant that the first Teddy/Janet scene in ages, happens in the very kitchen that Daniel destroyed not so long ago.
Of course by screwing up Daniel's plea deal Teddy is going to tear his family apart...but eventually it might also help to "save" Daniel -- it's still a bit ambiguous whether he killed Hannah or not, though --, now that sheriff Dagett is having second thoughts and is growing suspicious towards Trey...
See you next year, beautiful show!
ETA: From an
interview with Ray McKinnon
this very significant and great answer he gave:
"My feeling on what anybody intuits is that it's their subjective experience with the show. And once it's out there, in some ways it's out of my hands, so I don't get into the business of trying to dictate or to coach others into what I think they should believe because that's part of what fiction does. It leaves some of it up to the beholder, and hopefully what we've done here—not just in a plot narrative, but in the characters and the characterizations and the narrative of the characters' own lives—is to leave some mystery, and some unknowingness.
But specifically with this "Did he or didn't he?", which has always been hanging over the head of Daniel and the family and the town and the viewers: I guess, in an ideal world, it'd be great if people went away from that episode with different takes on what the truth is. Some come away with "He did it," and some come away with "He didn't do it," as you're saying. And perhaps there's the idea of are there really such things as forced memories that become like real memories? And is that a part of it?
That's kind of a meandering non-answer, I guess. But I am interested in storytelling that we're conditioned to, and I think one of the reasons that storytelling became part of the human experience is we're always trying to make sense of a world that sometimes doesn't make sense. And storytellers can do that for us—but there's also the idea that, as in real life, things don't always become completely known. And maybe that's a part of where we'll wind up with the story. I'm not sure yet."
There are many current shows that I love or enjoy, but
From today's Haaretz:

Holocaust survivors and descendants of survivors have signed a letter, published as an advertisement in Saturday's New York Times, condemning "the massacre of Palestinians in Gaza" and calling for a complete boycott of Israel.
The letter, signed by 327 Jewish Holocaust survivors and descendants of survivors and sponsored by the International Jewish Anti-Zionist Network, accuses Wiesel of "abuse of history" in order to justify Israel's actions in the Gaza Strip:
"As Jewish survivors and descendants of survivors and victims of the Nazi genocide we unequivocally condemn the massacre of Palestinians in Gaza and the ongoing occupation and colonization of historic Palestine. We further condemn the United States for providing Israel with the funding to carry out the attack, and Western states more generally for using their diplomatic muscle to protect Israel from condemnation. Genocide begins with the silence of the world.
We are alarmed by the extreme, racist dehumanization of Palestinians in Israeli society, which has reached a fever-pitch. In Israel, politicians and pundits in The Times of Israel and The Jerusalem Post have called openly for genocide of Palestinians and right-wing Israelis are adopting Neo-Nazi insignia.
Furthermore, we are disgusted and outraged by Elie Wiesel's abuse of our history in these pages to justify the unjustifiable: Israel's wholesale effort to destroy Gaza and the murder of more than 2,000 Palestinians, including many hundreds of children. Nothing can justify bombing UN shelters, homes, hospitals and universities. Nothing can justify depriving people of electricity and water.
We must raise our collective voices and use our collective power to bring about an end to all forms of racism, including the ongoing genocide of Palestinian people. We call for an immediate end to the siege against and blockade of Gaza. We call for the full economic, cultural and academic boycott of Israel. "Never again" must mean NEVER AGAIN FOR ANYONE!"

The list of all the 327 honourable people who signed the letter is here. I wish I could thank every one of them.
I already had the info thanks to
petzipellepingo, and Alan Sepinwall just confirmed it on his blog:

"Sundance has ordered a third season of "Rectify," one of the very best shows on television – and a series that likely couldn't survive anywhere but on Sundance.
"Rectify" tells the story of Daniel Holden (Aden Young), sent to Death Row as a teenager for the rape and murder of his girlfriend, then released decades later after DNA evidence overturned his conviction on appeal. It focuses much less on the sensational aspects of that plot — or on plot in general, for that matter — preferring to look at the emotional and spiritual impact of this man returning to a family, community and life he never expected to be part of again. The acting is marvelous, the characters gorgeously drawn, and while the pace is slow and contemplative, the rewards are enormous for those who have patience for it."
It's such a relief! Especially given what he wrote about the final episode, which is totally what I suspected in my previous post!
"Without giving away much about this week's finale, I'll say that I would have been very unhappy if it had been the last episode of the series — both because I'm not ready to lose the show yet, and because it's an even less definitive conclusion to the series than the first season finale.

"
Winter Sleep
at the cinema. It's the Turkish film that won La Palme d'Or in Cannes this year. Fortunately I hit the lady's room before entering the room because the film lasts 3 hours and 17 minutes and if you add the 20 minutes of trailers and ads before it, it's quite a trial for any normal bladder!
Winter Sleep
is a beautiful movie, but I am not sure I would have given the Palme to it...it wasn't very refreshing and it was somewhat hard at times.
It's very classical, in terms of direction, with a superb cinematography (the director is a former photographer so he does know about frames and angles), and the story is set in Cappadocia, a location that definitely adds to the general beauty. I went there a long time ago and it's just a magical place, with its troglodytes houses and
cheminées de fée
. It's the kind of location that makes you wonder whether it is real or a stage set so it was perfect for the film. Add in the snow and it's a fairytale come true...apparently.
Nature is important -- btw there a scene in which they catch a wild horse that I could barely watch--, but the film mostly consists in a series of verbal sparrings and quarrels (one of them lasts about 20 minutes!), in a
huis-clos
, so it's very theatrical.
The drama probes the human nature through the characters and tells us that beauty and delicacy often go alongside cruelty and brutality, wealth alongside poverty, strength alongside weakness. The dialogues are well written and the actors up to the task. Apparently the story was based on Chekhov's short stories...
The film mostly revolves around a wealthy man who rules his estate -- a hotel named Othello, and many houses his family owns in the village nearby-- through a few employees for he fancies himself a writer and often goes to his study. He's actually a former comedien, a stage actor who never really made a breakthrough but prides himself into having never accepted a role in tv series! He lives with his much younger wife and his sister, so the main dispute-scenes happen with them.
I would recommend
Winter Sleep
to fans of Bergman's films, of Chekov's plays (mostly
The Cherry Orchad
), and to people who don't suffer from incontinence. Oh and to those who love Schubert's sonatas!
WINTER SLEEP - trailer from Memento Films International on Vimeo.

I had that sonata stuck in my head for hours after the film ended...
I saw
RECTIFY
?!!!! It is so unique which is such a rare thing on television.
Why do shows that are obviously formulaic, poorly written, or made to please the crowd get renewed so fast (yes I'm looking at you tv shows that are adaptation of popular and best selling books), while Sundance Channel hasn't renewed
RECTIFY
yet? I know, I know it's all about the audience and the money...not about the quality.
TV world is unfair. But I should I know it, considering all the shitty programmes that draw so many viewers, while the most refreshing, daring and beautiful tv series often get cancelled after one (
Terriers
*sniff*), two or three seasons. BTW Netfix is having an
Uncancelled Showdown tournament
. Go and vote, hopefully for...
Deadwood
! Because as much as I loved
Caprica
,
Terminator The Sarah Connor Chronicles
,
Terriers
,
Rome
or
Firefly
, all great shows that should have been renewed,
Deadwood
has to win that one.
But let's go back to
RECTIFY
. There's only one episode left and I don't know whether it will be the season finale or the show finale so it's a mere torture to think I might never see those characters again. I don't see how it can wrap things up, though, or at least works as a closure, unless something big happens. Ray McKinnon might surprise me but I guess he has a third season in mind.
This penultimate episode, "Until you're blue", filled me with dread while breaking my heart all over again.
I loved the Amantha scenes -- while Amantha's storyline isn't usually my favourite part of the show --, especially the scene with her mother, but the episode belonged to Tawney and Teddy.
Aden Young is still fantastic, of course, and the prison flashbacks are always extremely powerful, yet I'm mostly impressed by Clayne Crawford. He has been killing it this season. It's probably not a popular view but I felt for Teddy more than I felt for Tawney in "Until you're blue". But as I have said before, Pete Campbell is my favourite
Mad Men
character, so it isn't surprising that I love Ted Jr so much.
Why but why do not more people watch
The Bridge. A few storylines don't work but it's a pretty decent show. The Juarez/El Paso setting remains its strongest feature, but I also love Matthew Lillard's permformance as Daniel, and Fausto Galvan aka the Mexican Tony Soprano. Besides Sonia and Marco working together are a treat.


I hope FX won't cancel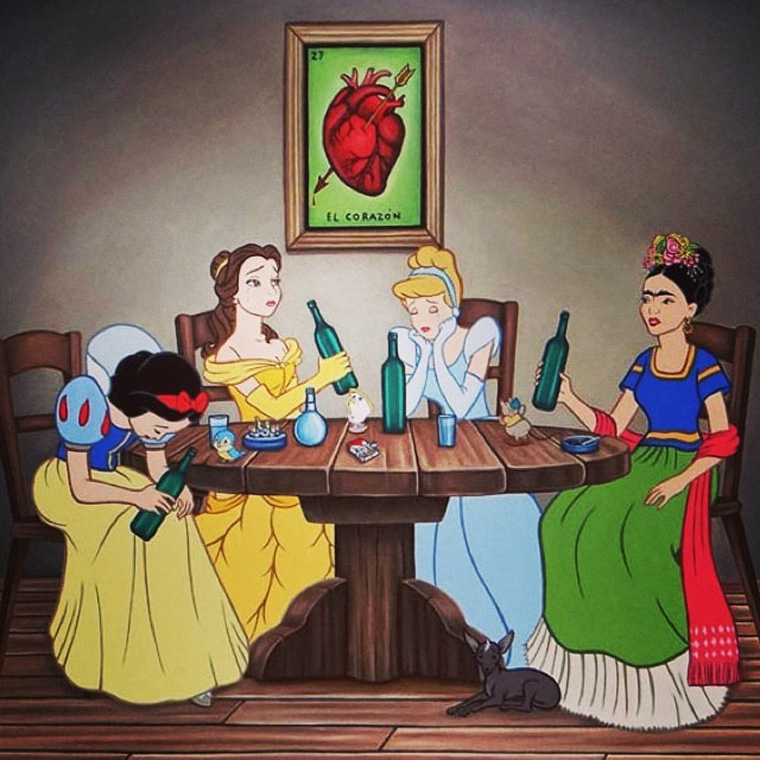 The painting above is from
José Rodolfo Loaiza's latest exhibition, "Profanity Pop"
.
Personally, I love the idea of Snow White as
Frida Kahlo (the Two Fridas style)
, and I think that
Gepetto/Merlin 'ship
makes a lot of sense!