Mad Men
episodes that are much much better than that one IMO.
(
Read more...
Collapse
)
Now I'm going to read what Sepinwall wrote about the episode.
ETA. Well, apparently he didn't like the ending scene as much as I do because it's too cynical...but at least I totally agree with this:
(
Read more...
Collapse
)
I've just watched it and I can't say it changed my man about finales in general. It wasn't bad and I loved the last minute, but there was some stuff in it that I did not like, and there many
There are at least a few films I'm rather excited about, even though they won't be released in theatre until September , October or November:


LOUDER THAN BOMBS by Joachim TRIER who previously directed the beautiful Oslo August 31, which I loved so much.


MACBETH by Justin KURZEL , starring Michael Fassbender as Macbeth and Marion Cotillard as lady Macbeth. Yes I'm curious and think that Fassy will be a great Macbeth!


THE SEA OF TREES by Gus VAN SANT, starring Matthew McConaughey


UMIMACHI DIARY by KORE-EDA Hirokazu who previously made the wonderful Nobody Knows and Like Father Like Son


DHEEPAN by Jacques AUDIARD


There are other films that could be good too, but those 5 are already on my "must watch" list.
May they choose well.
The 68th Film Festival in Cannes is starting tonight, with the Coen brothers as jury presidents. The opening ceremony has just happened.
The Good Wife
used to be a great show, easily the best show on network, able to compete with the cable prestige shows...
It is no longer in the same league.
Season 4 and 5 were terrific so it's sad to see how mediocre this sixth season has been, and the finale didn't make up for all the disjointed feeling, the silly stoylines and sided characters, and, above all, for the rather poor writing. And there was THAT scene, that was supposed to be fan service but turned out to be rather fan insulting given how
awkward and suspicious the shooting was
. If you have seen the episode, you know which scene I'm talking about...
I thought that the series had lost its heart and warmth when Josh Charles left – btw good for him to have left the boat before it sunk –, but I didn't expect it to lose its spirit and mind...and yet!
I will probably check the next season, out of curiosity, but with low expectattions for I think the show has definitely jumped the shark. I miss the good old time, when Will and Diane were drinking whisky or dancing together...
*sigh*
The Avengers: Age of Ultron
!
I saw
Jauja
by Lisandro Alonso, starring Viggo Mortensen. My friend M. – and cinema buddy, although that was probably not the kind of film I should have seen with her (for instance I never see Asian films with M. for she isn't a fan of slow paced movies indulging in long still shots!) – fell asleep and eventually said that she didn't understand it, I but I liked it quite a lot.
When the film was showed at Cannes festival, a French critic said that
Jauja
"starts like a western and ends up like a fairy-tale"
.
I'll add that it is a movie but it sometimes sounds and looks like a play, perhaps a play by Ibsen, given it is set in 1882 and that the main characters are Danish. It's both American and European.
The story begins at the end of the "Conquest of the Desert", a violent campaign designed to rid the region of its indigenous inhabitants (derisively referred to as
cabezas de coco
!). Gunnar Dinesen (played by an un-sexy and yet superb Mortensen) is an army engineer, a soldier who is supposed to bring the so-called civilization, thanks to his science and tools. It is never explicitly said (the film shows never states stuff) but water is a leitmotiv so I guess there're diggning a canal. Dinesen is a stranger in a strange land...that becomes stranger and stranger as the movie progresses.
Jauja
does start like a western, the "plot" recalling John Ford's
The Searchers
, and for a while it seems to balance realism and stylized symbolism, onirism even, but at the end of the day it's nothing but poetry and metaphysics in motion.
The incredible landscape, which might be actually the most important character in the movie, is so American, but the film has definitely something of a Scandinavian feel too, something that recalls Hans Christian Andersen's fairy-tales indeed (amongst my favourites there's "The Steadfast Tin Soldier"!).
Alonso is like the Dardenne brothers, he doesn't like professional actors much, let alone International movie stars, and he usually makes realistic films with non-professional actors and nearly no dialogues. But he made an exception for Viggo, who is an American star born from a Danish father, who lives in Spain and whose heart is Argentinian for he grew up near the place where
Jauja
was shot. The film was made for him.
Jauja
is the kind of movie that very few people will see, for it's only showed in a few arthouses since it's weird and soooo slow-paced – so I can't recommend it to everybody –, but it's really a beautiful film. The cinematography is simply stunning. Each shot is like a painting, carefully framed and composed. I'm sure that the photographer in Mortensen enjoyed being part of such an aesthetic work of art.
As you can see on the picture below – it's actually the opening shot –, the film is framed in a vintage 4:3 ratio...which is delightfully old-fashioned and perfect for the story. It's odd at first because the audience is no longer used to it, but you quickly forget the oddity.
So the film begins with introducing a daughter and her father. As you notice they are close and yet they don't look in the same direction...
Then the narrative follows our Danish captain on his journey through the desolate expanses of Patagonia in search of his eloped 15 year-old daughter. She followed a young soldier, unless he followed her, but at some point she might have been abudcted by Indians. Of course Dinesen's journey is actually a metaphysical one.
Sometimes the film calls to the mind Herzog's
Aguirre, the Wrath of God
. By the way the title, Jauja, refers to a mythical, El Dorado-like land of plenty. It is a sort of lost paradise that, according to the legend, men tries to reach but only to get lost on the way. Jauja is the quest that swallows and shakes all the certainties (Dinesen's but also ours). Sometimes Dinesen's absurd and difficult journey recalls
Don Quixote
.
The landscape is beautiful but Jauja is also a wild and threatening place, wherein Indians lurked; a place full of dangers, haunted by legends (like the one of Zuluaga, a soldier gone Kurtz-like mad); a magical world perhaps where the most unexpected encounters may occur. But we should expect this from the land where the magical realism genre was born.
(
See more beautiful shots
Collapse
)
There is no score, only the sound of nature and men (whatever they are doing), the "sound of what is real"...until about 1 hour in the film, when suddenly a guitar begins to play. We are no longer used to films that don't relie on manipulative music so the lack of score was an experience itself. The problem is that in the another room nearby, the theatre was also showing a film that did have a soundtrack, which bothered us.
Viggo not only produced the film (his Perceval publishing company produced it), but also composed
Jauja
's rare soundtrack – yeah Viggo is a total artist, he acts, paints, takes photographs, writes poetry, sings AND composes. The music happens when Dienesen finally falls asleep under a beautiful sky filled with stars.
The shot is again magnificent. I especially loved the angles created by the sabre, the arm, the leg and the slop. The music seems to indicate that the film won't bother to pretend anymore to deal with reality. The shot gives a feel of vertigo. It looks as if the character could fell into a stellar void.
Yes he's holding a toy, a little wooden soldier, which is an important clue in the film, but I won't tell why.
Eventually
Jauja
, and the audience with it, takes a sudden a plunge down a rabbit hole – it's fitting given that Viggo says that "Jauja" comes from Arabic and means a doorway, a passageway –...leaving the viewers wondering whether the story was Gunnar Dinesen's at all.
HERE
is a spoilerish interview with Viggo Mortensen.
In the end I couldn't help thinking of Jorge Luis Borges' short stories. He wouldn't have been able to enjoy the beauty of the cinematography, since he was blind, but I'm sure he would have loved the story. Some labyrinths must look like Dinesen's journey in Patagonia.
For those who know his work, I especially thought of stories from
El Aleph
("The writing of the god" mostly) and of "Las Ruinas Circulares"...
So yesterday, in the evening I went to the cinema but it was not to see
Alan Sepinwall summed it up by saying:
Justified
. But it will never mean that again, unless I decide to watch my dvds on Wednesday of course!
Now that Raylan Givens has deserted my screen, I feel the urge to sing that Bonny Tyler song "I need a hero"!
Where have all the good men gone and where are all the Gods?
Where's the street wise Hercules to fight the rising odds?
Isn't there a white knight upon a fiery steed?
Late at night I toss and I turn and I dream of what I need

I need a hero
I'm holding out for a hero 'til the end of the night
He's gotta be strong and he's gotta be fast
And he's gotta be fresh from the fight
The "and he's gotta be fresh from the fight" always makes me giggle. I know, I know, it isn't a very feministic thing to say, but sometimes I'm shallow like that.
That said, after six seasons of
Justified
I would add the words "He's gotta be wearing a hat"! because it was all about the white hat.
There are many anti-heroes and villains in tv show, but heroes not so much. Well, there was Molly on
FARGO
and Raylan in
Justified
. Of course he was flawed, and ready to bend the rules from time to time, but still a hero to the end.
I really liked "The Promise". As finales go it was a satisfying one. It was true to the show, and allowed itself a few last tributes to Elmore Leonard who first created Raylan Givens on the page.
(
So here is my final review
Collapse
)
Usually Wednesday means the day I watch
Lost Rive
r, a film written and directed by Ryan Gosling. It got mixed reviews over here, and honestly I didn't like it. It looked like Gosling wanted to emulate Nicolas Winding Refn – his film especially recalled
Only God Forgives
–, but when Windeing Refn's movies are atmospheric, intriguing and a bit subversive,
Lost River
is rather weird, bordering on boring, show-off and even a bit pretentious in places.
Anyway, watching it was strange because of its cast, which was so familiar, espcially for someone who watches tv series!
In the lead parts we've got Joan from
Mad Men
(Christina Hendricks) and Fitz from
Agents of SHIELD
(Iain De Caestecker) – he's Ryan Gosling's alter ego here, playing a part that Gosling would have played had his film been directed by Nicolas Winding Refn, and he even kinda looks like him, albeit cuter and less sexy –, and Eleven from
Doctor Who
(Matt Smith), whom I barely recognized at first although I knew he was on the film, who plays a very bad boy!
To add to the feeling of familiarity, Gosling also cast the excellent Reda Kateb, a French actor who won the César for best actor over here this year (for
Hippocrate
), and whom I saw in two films since the beginning of 2015:
Loin des Hommes
, in which he starred along Viggo Mortensen and
L'Astragale
, a lovely film I saw last week!
BTW I would recommend
L'Astragale
over
Lost River
in a heartbeat. It's an adpatation of an autobiography written by Albertine Sarrazin, directed by Brigitte Sy who was late Philippe Garrel's wife and is still Louis Garrel's mother (he does a cameo in the film).
The astralagus is a foot bone that young Albertine (marvellous Leïla Bekhti) breaks when she jumps to escape her prison. She can't walk so she crawls on the road and she's saved by Julien (Reda Kateb), a gangster with a golden heart. Thanks to him she hides in Paris, she learns to walk again, and she waits for him (which includes working as a prostitue to get money) while he's living a life of "crime" (break-ins) away. The film recreates the shady Paris of the late 50's but it's mostly a love story and a good one, for Albertine has fallen madly in love with Julien. It isn't soppy at all, and Bekhti and Kateb make a wonderful couple on screen.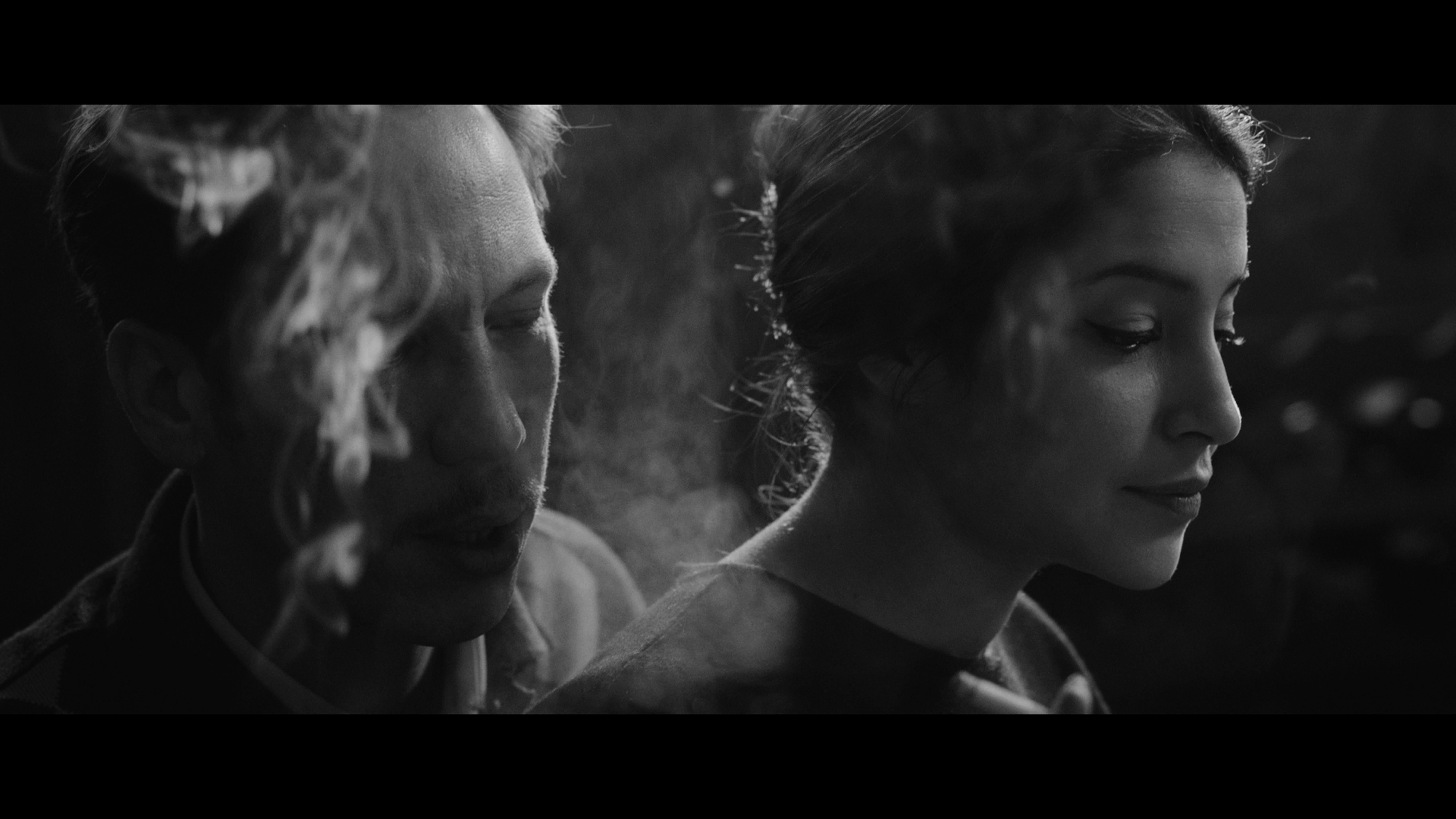 Sometimes life does imitates art. It's quite fascinating in this case.
Albertine's name for instance seemed to have foreshadowed her fate. She was born to belong to literature. When you're French and you hear the name Albertine, you immediately think of a famous character by Proust in
La Recherche du Temps Perdu
. Okay, maybe you think about it only when you're well-read, but still, it isn't a common name.
In Proust's novel, Albertine is the narrator's love interest, his mistress with whom he even lives at some point and a possible bride (but they never make it to marriage)...until she disappears some day. She's also someone with sapphic inclinations which drives the narrator mad and jealous.
La Prisonnière
is the title of the book in which their relationship and his jealousy are depicted. The following book is
Albertine Disparue
, but the alternative title is
La Fugitive
!
How can we not think that Albertine Sarrazin's life strangely echoes Proust's Albertine beyond her name?
Albertine "started" as a
prisoner
since she was in prison after she robbed a shop with her friend (and lover) Marie– played by Esther Garrel in the movie–, and after her escape she is on the run so she's a
fugitive
during
L'Astragale
. Julien is the big love of her life, but she does have homosexual relationships as well (at least with Marie). Like her proustian counterpart she had a very short life (not a spoiler for the film at all), dying from a medical malpractice while she was only 29 years old.
Yesterday evening I went to the cinema and saw
Justified
ends tonight (nooooooooooooooo!!!!!!!!) and two of the best tv critics I know have already posted a tribute to the FX series. Those pieces of writing that are both worth reading.
Noal Murray
used to be the best reviewer on the AV Club, and he came back to his former house to deliver
here
a lovely tribute to the show.
I especially liked the way he talked about Boyd and Raylan:
"Yost and his writers haven't shied away from confronting matters of class and race, or from asking whether's Raylan's really all that different from his loquacious nemesis, drug dealer Boyd Crowder. But Justified also hasn't avoided answering that question, with an unequivocal, "Yes." Boyd's a devious opportunist who kills when it's convenient, while Raylan—though he's a self-centered prick who's quick on the trigger—aims to do what he knows to be right.
Boyd's a fun character, especially as played by the wiry Walton Goggins; and he's even fairly sympathetic. Like a lot of criminals in pulp stories, Crowder dreams of piling up enough money to allow him to buy a big house and live the straight life with his true love, Ava. But relatable aspirations don't make him any less deserving of punishment. Raylan, meanwhile, has never been an "antihero" of the type that's dominated TV in the post-

Sopranos

era. He bends rules, drives his boss and coworkers crazy, and he's clearly haunted by a childhood spent under the thumb of a cruel outlaw father. But he also closes cases, and as played by Timothy Olyphant he does it with a combination of quiet arrogance and vengefulness—as though he were trying to prove to everyone he grew up with that he's better than them."
And, of course, I loved his use of the word "troubadour", and the ending of his post:
"Each season thus far has ended with a different version of Kentucky musician Darrell Scott's "You'll Never Leave Harlan Alive," and over the past six years the series has established an aesthetic similar to a low-key guitar-slinging troubadour: making music so simple that it seems like anyone could do it. But not everyone is Darrell Scott, just like not everyone is Elmore Leonard. The main reason why Leonard was able to work so well within his own rules is that he had a vivid imagination and a masterful ear for dialogue, which meant he didn't need much more than a twisty plot and some strong personalities to fill the page. Justified's team has also trusted that this is enough. Like a great songwriter, they've just picked out a few chords, and then sung something honest."
Alan Sepinwall
is one of the most revered tv critics and he's equally quick to sing the praises of the show in his farewell
here
. I'll leave you with this bit:
"But the writers never lost sight of who their hero was, and they let him show off the same cocky, stubborn, sarcastic demeanor against thugs big and small. They had a great character at the center, played by an actor who fit the role as perfectly as that hat fit his head".
Oh yes, that was the perfect man for the perfect hat!
Openculture
!
This is an acoustic and never-heard version that the Rolling Stones uploaded a few days ago:
I found this little gem thanks to
Anyway, I was wrong, "Collateral" wasn't the finale, there's still one episode left. Yay! But given how this one ended, I wonder how they are going to fit everything in the next and last (nooooooooooooooo!!!!!!) episode of
Justified
.
(
Read more...
Collapse
)
Now that's a line they must have been waiting to use for years!!!